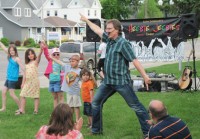 Summer is in full swing. The birds are chirping, the sun is shining and humidity is in the air.
Summer events at Sauk Centre Public Library began with a fantastic Heebie Jeebies concert. Glen Everhart put on a fun-filled show with lots of singing and humor. It was entertainment for the whole family, but especially fun for the children. If you missed it, don't worry; there are plenty more activities to attend this summer at the Sauk Centre Library.
The Summer Reading Program, Dig into Reading, is in full swing and it's not too late to sign up. We have a program for all ages. The Read To Me program is for 0-3. Dig into Reading is for ages 3-12. The teen program, Beneath the Surface, is for students in grades 6 through 12. All you need to do when you join the Summer Reading Program is read! Just come into the library and sign up, get a tracking slip to record the number of minutes you've read, and turn in the completed slips for a chance to win some great prizes. It's that easy.
Don't forget to check the Great River Regional Library's events page on this website for a complete listing of all the wonderful events taking place this summer courtesy of the Sauk Centre Library and the surrounding branches of Great River Regional Library. We hope to see you at the library this summer!