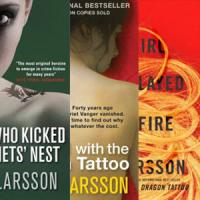 Sweden's Stieg Larsson hit something special with his dark trilogy about crime and injustice concealed under a cloak of secrecy held by high ranking government officials.
The exact vein of pleasure Larsson opened is subject to discussion. Was it his central character, the apparently indestructible and brilliant outsider Lisbeth Salander? Was it the crusading spirit of journalist Mikael Blomkvist (a self-portrait, surely)? Is it the description of Scandinavian society, which contrary to popular belief is shown to include racism, organized crime, and violence against women? Or maybe it's just a great story.
Scandinavian crime mystery is one of the hottest genres around, and this list includes plenty by authors such as Karin Fossum, Hakan Nesser, Maj Sjowall and Henning Mankell. Mankell's fictional character, police officer Kurt Wallander, features in a series televised by the BBC starring Keneth Branagh. There are other DVDs on the list, mostly featuring strong female leads.
Take a look at our list. It's on the New, Best & Fun page of the catalog. There's nothing quite like The Girl With the Dragon Tattoo and its two sequels, but if you enjoyed those, we're sure you'll enjoy some of these as well.
Check it out!