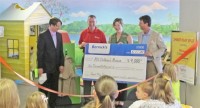 Children and families gathered in the St. Cloud Public Library children's area for the Grand Opening of the Smart Play Spot on Wednesday, Aug. 14.The Smart Play Spot is a colorful play environment intended to stimulate children's imagination and interest in language and reading. Its features, such as a ranger cabin, jeep, and hollowed tree trunk, include activities, letters, and word games.
The Smart Play Spot was designed and constructed by staff from the Minnesota Children's Museum (MCM). It was funded by Minnesota's Arts and Cultural Heritage Legacy Fund and matching funds from the St. Cloud area. Donors include Bernick's, the St. Cloud Friends of the Library, the Initiative Foundation, the Morgan Family Foundation, and the Jim and Yvonne Sexton Family Foundation.
Photo: James Lekvin, MCM Manager of Institutional Giving, spoke about the museum's role in building the Smart Play Spot; St. Cloud Mayor Dave Kleis cut the ceremonial red ribbon; library Regional Supervisor Jami Trenam oversaw the project; and Jason Bernick handed over an oversize check for $9,000 on behalf of Bernick's.