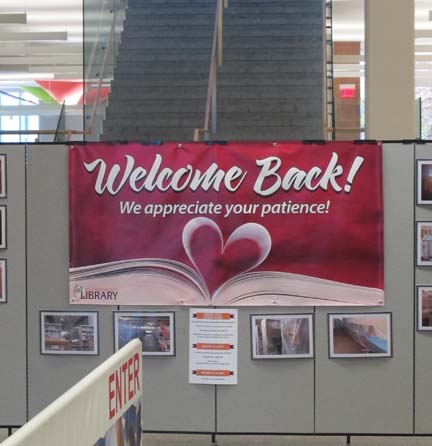 The St. Cloud Public Library is reopening its doors to full public service beginning Thursday, Nov. 3 at 10 a.m.
The library will resume operating with its usual schedule. Both levels of the building will be open, and public computers and study rooms will be available. The online link to reserve meeting rooms will be reactivated on the library's website, griver.org.
Children's programming will resume on Saturday, Nov. 5, with SCSU Saturday Storytime 10:30 to 11:00 a.m. for ages 3 to 6 years, and SCSU Toddler Time 11:30 to 11:50 a.m. for ages 18 to 36 months. Routine Toddler Time and Preschool Storytime schedules resume Tuesday, Nov. 8. A complete schedule for library programming is available at the library's website and at the library.
Extended hours at the Waite Park public library will end Friday, Nov. 4, after which it will return to its normal schedule.
An all-day "Welcome Back" celebration is being planned for Tuesday, Nov. 15 at the St. Cloud Public Library. Please watch this website for further details.
St. Cloud Public Library has been closed since an arsonist set a fire in the library's upper level on Aug. 17.