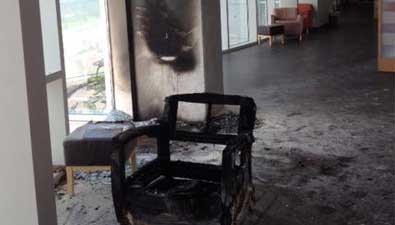 The St. Cloud Public Library will be closed to the public until further notice.
We are in the process of assessing damage and clean-up has begun.
On Wednesday August 17, 2016 approximately 250 patrons and staff were evacuated after a patron set fire to a book and a chair on the second floor of the library. St. Cloud Police and St. Cloud Fire departments responded very swiftly. The fire was contained quickly. Patrons and staff were evacuated without incident or injury.
Key library staff and crews met this morning (Thursday) to assess smoke damage at the St. Cloud Public Library. While there was not extensive fire damage there is smoke damage throughout the building. Staff and adjusters are assessing the collection and equipment as well as structural issues and air quality within the building. There are 106,000 items located on the second floor with a value of $2.1 million.
The St. Cloud public library is the headquarters for the entire Great River Regional Library system. Staff are working hard to ensure smooth operations for the remainder of the region. The St Cloud library is working with a skeleton crew so is unable to answer incoming calls. However, patrons may call any other Great River Regional Library location for assistance with renewing items, placing holds etc. For St. Cloud Library patrons due dates will be extended for items checked out and placed on hold. All other Great River Regional Libraries will remain open with normal operations.
For questions or more information, contact Julie Henne, associate director for public relations, at 320-250-4924.
Great River Regional Library (GRRL) provides library services at 32 public libraries in Benton, Morrison, Sherburne, Stearns, Todd and Wright Counties. It provides Central Minnesota residents with nearly 1 million books, CDs and DVDs, 250 public computers, programming and information services.