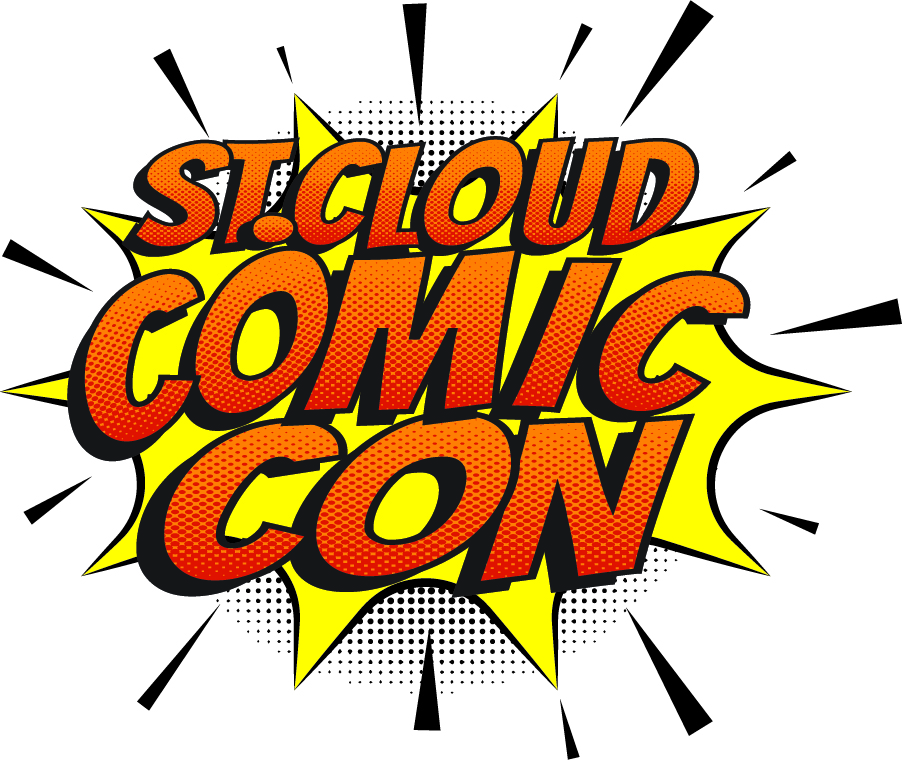 The St. Cloud Public Library is about to be transformed into a nerd's paradise.
From Magic the Gathering to Anime, Superheroes to Pokemon, local artists to geeky cooking — and much more — the inaugural St. Cloud Comic Con is gearing up to be a lively celebration of art, creativity and the power of imagination.
St. Cloud Comic Con is on Saturday, June 30, 11 a.m.-4 p.m., and features a diverse lineup of activities for all ages. Come for part or stay for the whole event.
Costumes not required, but definitely encouraged - and yep, there are lots of prizes. 
Check our handy schedule at the bottom of the page for times and locations of each activity.
Call 320-650-2500 with any questions.
See you on the 30th!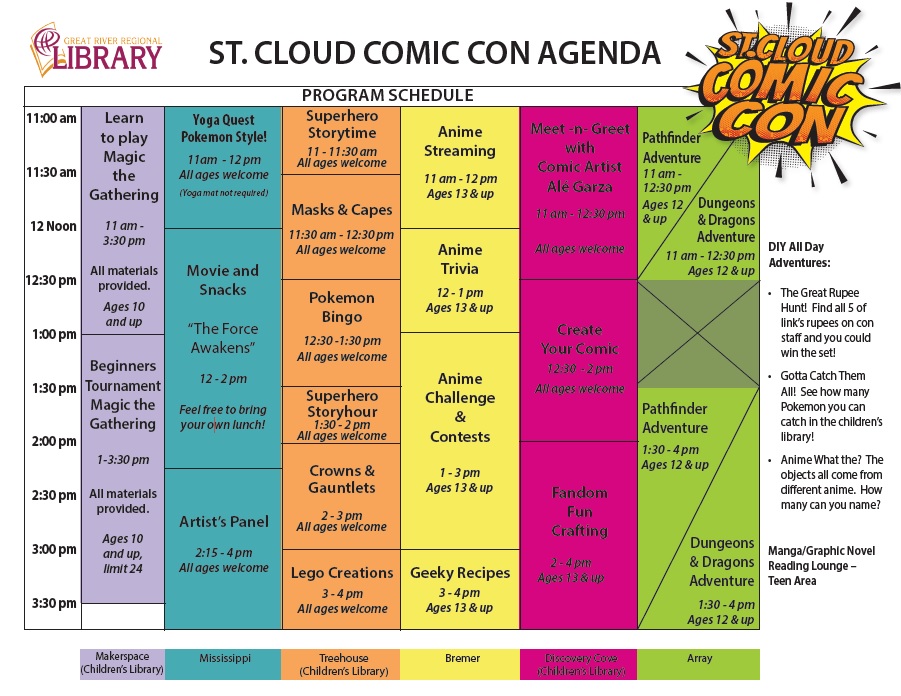 Meet-n-Greet with Alé Garza
Alé has worked for both Marvel and DC, as well other publishers. Besides working on his own creations, he has drawn everything from Supergirl to Batgirl, Spider-Man to Deadpool, and so much more! Come meet him and bring your questions!
Create Your Comic
Sit down with creators Jesse Switters and Dale Carothers, and learn what it takes to make your own comic book.
Superhero Storytime
Take a listen to stories about your favorite superheroes and some heroes you haven't heard of yet!  Geared toward ages 4-8, but all are welcome.
Craft Time: Masks and Capes
Are you a superhero at heart?  Or maybe a super villain?  Design a mask and cape to complete your uniform!  All materials provided.  For kids and kids at heart.
Craft Time: Crowns and Gauntlets
Create a crown that Wonder Woman would be proud of and gauntlets that would make Batman jealous!  All materials provided.  For kids and kids at heart.
Geeky Recipes
Have you ever wanted to make Spider-Man's favorite wheatcakes?  Do you need a good custard to go with those fish fingers?  We've got the recipes for you!  Take home a stack of geeky recipes from your favorite fandoms, share recipes you've made, and make a spice blend to use on your cooking adventures. Spice supplies limited to first 24 entrants, but recipes are available for all!  For teens and adults.
Anime Streaming
Periodically during St. Cloud Comic Con, take a break in the Bremer room and watch some of the most popular anime from 2015-2018. Ages 13 and up.
Anime Trivia
Join us promptly at noon for Anime Trivia! Square off and test your knowledge on these twenty questions about various anime. There is a prize for the winner. Ages 13 and up.
Try Not to Sing/Dance Challenge
Only the strongest can conquer this challenge! Battle off against some of the catchiest anime songs! If you prevail, then you go up against the gauntlet! Winner gets a prize and gets to choose the next anime to be streamed from a list.  Ages 13 and up.
Artists' Panel
Spend some time with professional artists from around the area as they explain their art, sources of inspiration and methods. Make sure you bring your questions! All ages.
Featured artists include:
Heidi Jeub – painter, book artist and public artist
Ryan Schepp – tattoo artist /owner of St. Cloud's Cream City Tattoo
Jaime Coker – illustrator
Jonathan D. Wilson – comic creator
Steffany Schmit – graphic designer
Jesse Switters, Artist/Art Director from Jesse Switters Design and Illustrations
Magic the Gathering
Learn to play the fun card game Magic the Gathering with the good folks from Paddy's Games. All materials provided. Ages 10 and up. Limit 24.
YogaQuest: Pokemon style!
 Join this narrative-style yogic Pokemon-themed adventure, for those of all ages and fitness levels. No mats required, just bring yourself and your sense of humor. For all ages.
Cosplay Crafting
Make gems and jewels out of resin, and gauntlets and armbands out of foam to create your very own costume for the convention! All ages.
Dungeons & Dragons and Pathfinder Adventures
Join our excellent dungeon masters as they lead you on an exciting role-playing adventure tabletop game. Ages 12 and up.