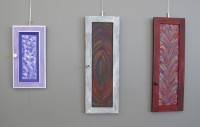 St. Cloud Public Library is currently hosting an art exhibit titled "Open Doors" featuring artwork by local artist Sarah Drake. Her paintings are hanging on the second floor in an area that overlooks the main entrance.
Drake is one of a group of American artists that will be exhibiting in the Marina Tsvetaeva Museum and Cultural Center in Moscow, Russia from Dec. 20 to Jan. 1. Drake will be at the library for an opening ceremony event on Thursday, Dec. 6, 5:00 to 7:00 p.m.
Born in 1892, Tsvetaeva was a poet who lived through the Russian Revolution and famines that followed it. Drake's abstract pieces are titled with one word (such as famine and passion) that has been used to describe Tsvetaeva or her life. Because famine played an important part in Tsvetaeva's life events, Drake has used kitchen cabinet doors of varying sizes to frame the art.