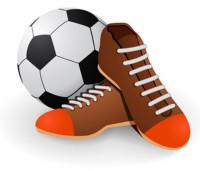 Once every four years soccer fans watch as the best national teams from around the globe compete in the beautiful game.
It's World Cup time.
To mark the occasion, we have created a New, Best & Fun list of soccer items from our shelves. Of course, these are available at any time, not just when the World Cup is being played. If you want to learn about soccer, learn how to coach soccer, or find out about the game's best players, check our collection. And if you have a child who loves soccer, we have lots of books to read with them that feature the sport. Search the catalog using the general keyword "soccer" and you'll find more than 650 items.
This New Best & Fun list, titled The World Cup, shows the diversity and impact of soccer with titles such as "Africa United: Soccer, passion, politics, and the first World Cup in Africa" by Steve Bloomfield, which describes modern-day Africa through the way the game has been used and played across the continent. "Bend It Like Beckham" is an entertaining DVD, and also looks at the changing face of Britain and its immigrants. If you like biographies, try "Red Or Dead" by David Peace, a fictionalized biography of revered former Liverpool manager Bill Shankly.
Check out the list, check out some titles, and may the best team win!