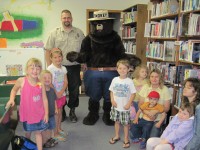 Smokey the Bear visited the Eagle Bend Public Library for a special storytime in July.
DNR officer Jason read the the kids a story about Smokey the Bear and fire safety. They discussed all the "do's and don'ts" for fire safety. He gave each of the children a Smokey the Bear book and book marker. This program was provided by the Eagle Bend Friends of the Library.
Join us for our next Toddler Storytime on Monday, Sept. 15 at 11:30 a.m. Please contact the Eagle Bend library to pre-register.