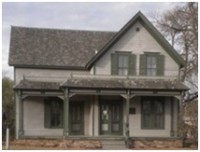 This summer, the Minnesota Association of Library Friends (MALF), together with the Sinclair Lewis Foundation, and the United for Libraries' Literary Landmarks Association will add the Sinclair Lewis Boyhood Home in Sauk Centre to the list of nationally recognized Literary Landmarks. Harry Sinclair Lewis wrote "Main Street," "Babbitt," "Arrowsmith" and other novels, and in 1930 was the first writer from the United States to be awarded the Nobel Prize in Literature.
MALF and the Sinclair Lewis Foundation will dedicate a custom-made plaque at the home at 810 Sinclair Lewis Ave. at 4:00 p.m. on Tuesday, July 16. The ceremony will be one of the events at Sauk Centre's "Sinclair Lewis Days," a week-long festival. A short presentation will accompany the plaque dedication, as well as a keynote from local publisher and Lewis historian Dave Simpkins. The event is free to the public. After the program, attendees are invited to take part in a tour of the home.
For more information about Sinclair Lewis and the plaque dedication, visit the MALF website.