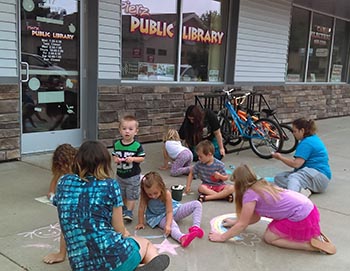 Every Thursday morning at 10 a.m., the Pierz Public Library hosts a summer storytime, and this week, the theme was "art,"
We begin the program with several stories, songs and rhymes before wrapping up with a craft. This week, we took our talents to the sidewalk outside the library. The kids drew a wide variety of art and enjoyed a popsicle.
Summer storytime in Pierz runs through August 24, 2017. Registration is not required.
Come and join in the fun this summer!