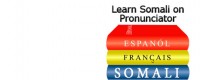 "Salaan" means "Hello," and "Sideed tahay?" means "How are you?"
These are some of the first Somali words and phrases you can learn using Pronunciator, the library's language learning database.
Thanks to the addition of a new module, Somali speakers can now learn English through Pronunciator also.
You can study 80 languages in any of 50 languages with Pronunciator, which offers the largest ESL curriculum on the planet. So if you want to learn how to greet your relatives in Norway, or meet the newcomers down the block, Pronunciator is the place to start.
It's free of charge with your library card. And it's easy to use once you register.
Our databases are linked in the left column. So check it out.
"Nabadey." (Good-bye.)