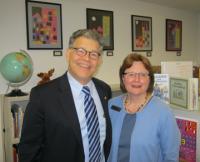 On an unusually warm fall afternoon Sen. Al Franken visited the town of Royalton on Saturday, Nov. 12 to meet with city officials about the solar panels recently installed on City Hall. Franken, a member of the Senate Energy Committee, recently announced an initiative he said could save Minnesotans hundreds of thousands of tax dollars by retrofitting buildings to make them more energy efficient. Royalton Mayor Andrea Lauer said a 2009 federal grant covered about 40 percent of the $90,000 project.
After a short presentation by city officials about the energy-saving project Franken spent the remainder of his visit shaking hands and posing for photos with the folks who had come to meet him. As he was about to meet with the press he decided to make an unscheduled visit to the library which is housed in the City Hall. He was surprised to see the library still had VHS tapes in the collection. He asked about the public Internet stations and their use by the public. He stated the importance of public libraries.
He is photographed in the Royalton library with Branch Manager Linda Mueller.