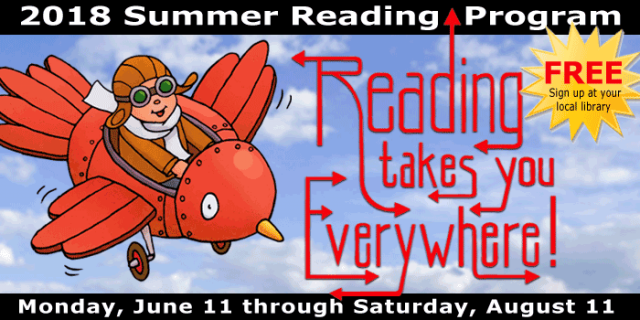 Where do you want to go this summer? Hogwart's Castle? How about back to the days of King Arthur and his court? Or maybe a galaxy far, far away?
Well, you are in luck, because the Becker Branch of Great River Regional Libary is ready to take you there!
Our Summer Reading Program (SRP) begins on Monday, June 11th, and continues through Saturday, August 11th. This year's theme, Reading Takes You Everywhere encourages readers to explore all the different places - near, far, real, or imaginary - that a great book can take them.
Besides providing an occasional break from the summer sun, the SRP is designed to defeat the summer slide – the tendency for students to lose their academic footing during the break from the classroom. The benefits of summer reading are undeniable. Research by the National Summer Learning Association (NSLA) finds that students who participate in public library summer reading programs scored higher on reading achievement tests at the beginning of the next school year than those who did not participate - in some cases, significantly higher.
The SRP is for children ages 0-18, with age-appropriate program goals and activities for each age group. Children and teens are encouraged to stop by the Becker Library to register for the SRP and pick up their reading logs. Once they have completed their reading logs, they can return them to the library for a prize and have their names entered into a drawing for the grand prizes awarded at the end of the program. There is no limit to the number of reading logs participants can complete, and each completed log qualifies them for another entry in the grand prize drawing.
We invite families to help us kick off the SRP and celebrate Becker's Open Streets night by joining us on June 11th from 6:15-7:15 p.m. at the Becker Library for a live concert by Ralph's World featuring Ralph Covert and his Time Machine Guitar. Ralph's familiar rock style is accompanied by a range of new sounds drawn from his travels and a perfect complement to our SRP theme, Reading Takes You Everywhere.
Why not make this summer your most adventurous ever? Give your SPF the day off and head to the Becker Library to sign up for the SRP!