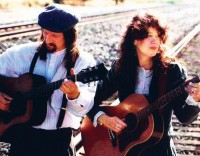 Join us on Friday evening Sept. 5 from 6:30 to 8:00 p.m. for a presentation on the Orphan Train Riders.
Alison Moore and Phil Lancaster tell the story of the 250,000 orphans and unwanted children who were put on trains in New York between 1854 and 1929 and sent all over the United States to be given away. The story is told through original music and an audio-visual presentation of archival photographs and interviews with two surviving orphan train riders. There will also be a reading from the new novel "Riders of the Orphan Train" by Alison Moore.
For more information you may call the Belgrade Library at 320.254.8842.