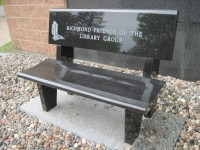 Have you seen the new bench outside the Richmond Library?
That's the work of The Friends of the Richmond Library. The Friends worked with Murphy Granite Carving, Inc., who offered the Friends a discount on the beautiful piece of granite from India. Local artist Jenny Evens created this design that the Friends loved. According to Friends member Janelle Epple-Peart, the black granite "blends so well with the library."
As seen in this photo, the bench makes a lovely addition to the landscape surrounding Richmond Public Library.