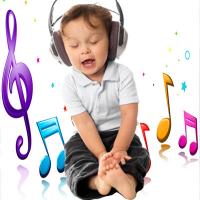 Do you and your child enjoy singing? Songs are a natural way to slow down and learn language. Here are a few book choices from our Early Literacy - Singing list that will encourage your child's reading through song.
Take a ride along with baby animals at the zoo in Down By The Station. Ever wonder what happened to Mary's lamb after it arrived at school? Check out this version of Mary Had A Little Lamb to find out. Your prince and princess can pretend to be living next door to a family of dragons in this tale of Over At The Castle. A fun-filled outing for a family of bears turns into quite an adventure in Row, Row, Row Your Boat. Lull your child to sleep with All The Pretty Little Horses or Hush Little Baby. Does your child like to make-believe animal sounds? Get on board with a busload of different animals – including seals, tigers, monkeys and more, as they make their way around town in The Seals On The Bus.
If the title you want is not at your local branch be sure to request it through the GRRL online catalog. Check the list on our New, Best & Fun page regularly to see what's new. With any of these selections, you and your child will spend enjoyable reading AND singing time together!