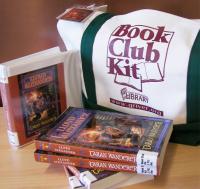 It's fun to talk with friends about a book you've all read.
We make this easy at the library with Book Club Kits. Any library cardholder can borrow a kit. They check out for six weeks to allow time for them to be distributed, discussed and returned. Great River Regional Library (GRRL) has more than 100 adult fiction book club kits, 22 non-fiction kits, 22 kits for teens, and more than 70 kits for children of various ages. New kits are added frequently.
You don't have to be part of an official book club to check out a kit, although they are prepared to be ideal for that purpose. Most kits contain ten books. Many of them contain an audiobook version. Some have a large print version. All include a discussion guide that can be used by a group leader. The individual who checks out the kit is responsible for all of its contents.
The best way to find kits is to do a "Subject Alphabetical" search of the GRRL catalog, entering the words "book club." The search result will be a list of terms including various categories of book club kits. Click on the one you want (e.g. Adult non-fiction), and make your selection from the titles provided. Top of this list is "The Devil in the White City: Murder, Magic and Madness at the Fair that Changed America" by Erik Larson. Next in line is "Eat, Pray, Love: One Woman's Search for Everything Across Italy, India and Indonesia" by Elizabeth Gilbert.
Each full catalog entry includes a Notes section. For "Eat, Pray, Love," the notes tell you that the kit contains 10 copies of the book, 1 book-on-CD album, and a discussion guide.
Start a book club this fall, read what you like, and have fun at your library.
GRRL makes it easy for library supporters to sponsor a book club kit. Check here for more information.