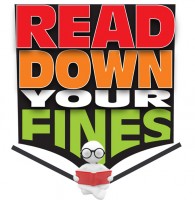 Teens and children 16 and younger have an opportunity to read down fines on their library cards.
During Teen Read Week, October 13 to 18, holders of minor library cards who have fines related to late return of materials may pay off those fines simply by reading at the library.
For each 15 minutes of documented reading at the library, $1 in late return fines will be eliminated. Parents of young children can assist by reading to them.
The goal is to make young people feel welcome at the library and to encourage the reading habit.
Read Down Your Fines was introduced at Great River Regional Library in 2013. More than 400 young people have been able to eliminate their fines through this program. This made the full range of library services available to them, and they were able to check out materials again.
The cost to the library of eliminating fines is offset by donations to Read Down Your Fines fundraising. Thanks to all those donors whose support made this program possible! Visit your local Great River Regional Library location for more information on how to take part in Read Down Your Fines Oct. 13 to 18.