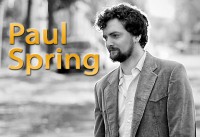 Paul Spring is a singer and songwriter from St. Cloud. He has released folk-rock albums and a highly reviewed family album that NPR called "an ode to books and stories, and to the families who nurture them."
Paul will be performing at the Annandale Farmers Market on Saturday, Aug. 9 from 10:00 to 11:00 a.m. Bring lawn chairs and the kids to this family concert at the Market. Paul Spring performs concerts that consist of playful and fun folk songs. His family music is interactive, upbeat, and covers characters such as Sherlock Holmes, Don Quixote, Mermaids, and Peter Pan. Paul's songs promote reading, childhood literacy, and the imagination.
The Annandale Farmers market is located just outside of the Annandale Public Library. The concert will move into the library in the event of rain. This event is sponsored by the Annandale Public Library and funded in part with money from Minnesota's Arts and Cultural Heritage Fund.