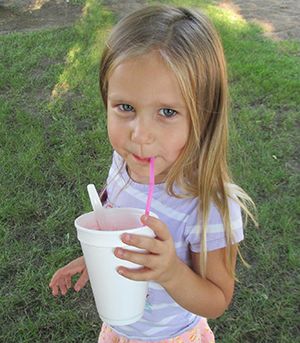 Ruby (pictured) is definitely not the only Upsalian who enjoyed the 6th Annual "Summer Concert in the Park!"
In fact, she was one of over 200 community members who turned up on Friday, Aug. 11. 
Organized by musician Paul Jensen, the concert showcased young area musicians and families. 15 musicians played and sang along, assisted by a professional sound technician who helped the music sound even better! 
Friends of the Upsala Public Library, ElmDale Creamery and CentraSota provided ice cream and pop for floats. 
The concert kicked off the Upsala Centennial celebration, Welcome Home to Upsala!
See you next year!