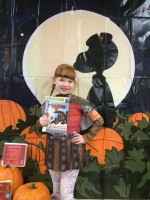 The focus is on fun this Halloween at Paynesville Public Library!
Monday, Oct. 26 from 5:30 to 6:15 p.m., Paynesville library will have a Halloween storytime for ages 0 to 6. Wear your costume, if you'd like to give it a practice run before Oct. 31.
Everyone is invited to snap a pic in our pumpkin patch photo booth. Use your camera or cell phone camera and post your photo on social media or share with family. Pictured, a young library customer poses in the booth, costumed as "Astrid", a character from her favorite book "How To Train Your Dragon."
For customers ages 6 and up who are looking for a tricky challenge, we'll be building a working model roller coaster using K'nex construction pieces at the Paynesville branch Monday through Thursday, Oct. 26, 27, 28 and 29 from 3:30 to 4:30 p.m.
Costumed Trick-or-Treaters are welcome at the library from 5:00 until 8:00 p.m on Friday, Oct. 30 and from 10:00 a.m. to 1:00 p.m. on Saturday, Oct. 31.