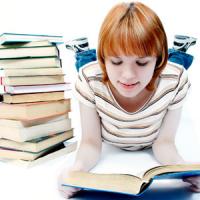 Our New Teen Fiction list includes recently published and purchased titles. It is always changing, and it's a great place to find what's new in young adult literature at the library.
Young Widows Club by Alexandria Coutts explores the grief of a teen widow unprepared for transitioning back to life as a single woman. Younger teen readers will be interested in the award-winning You Can't See The Elephants, the story of a brave 13-year-old who acts on her suspicions that two friends are being abused at home. In Rules For 50/50 Chances, Kate McGovern writes about a 17-year-old struggling with whether to have the medical tests that can tell her if she's carrying a dangerous genetic mutation. And in Not If I See You First, Eric Lindstrom puts his readers inside the mind of a blind 16-year-old.
Not all teen fiction deals with hardship. Some of it is amusing and entertaining. Take a look at our Teen Fiction list to find what's new. To find the list click on the New, Best & Fun page tabbed from the catalog. The list is updated frequently, so check in and check it out!