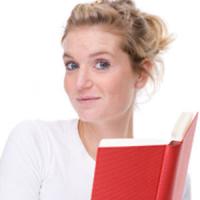 Beneath the busy exterior of almost every Great River Regional Library staff member is a person who would prefer to be sitting comfortably, reading a book. After being surrounded and tantalized by books all day, many of them like nothing better than to read a good book when they go home.
So that you can share our passion, we keep an updated list of recent staff favorites called our Staff Picks list on the New, Best & Fun page.
We enjoy 'serious' authors such as Jim Harrison, a first-tier writer whose Returning To Earth is the story of a man dying of amyotrophic lateral sclerosis (Lou Gehrig's Disease) dictating to his wife the story of his family, memories, and physical deterioration.
We like being creative, and read books like Alterknits: Imaginative projects and creativity exercises by Leigh Radford, full of patterns, inspiration and ideas for knitting projects.
We work in a high-tech media and communication environment, so we read Cognitive Surplus: Creativity and generosity in a connected age, in which Clay Shirky examines the way large numbers of our society are shifting from being media consumers to becoming media contributors through Internet collaborations.
When we want a cozy mysery, we may try Maisie Dobbs by Jacqueline Winspear, about a nurse turned private detective sleuthin in England between the World Wars.
And most of us can identify with The Man Who Loved Books Too Much: the true story of a thief, a detective, and a world of literary obsession, Allison Hoover Bartlett's book about the most prolific individual book thief in modern history.
Check the Staff Picks list to see what other titles library staff are reading. Like most of our lists, it's updated frequently and will reward repeated visits.