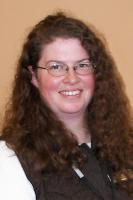 Brandi Canter was recently promoted to the position of Regional Supervisor for Great River Regional Library (GRRL). In this role she supervises Branch Managers of 14 GRRL libraries, ensuring they have the resources and training they need to provide excellent public library service, and in her own words, "helping them to be awesome." She is the liaison between the libraries she supervises and GRRL administration, and also is a liaison with city offices, helping to bring community concerns to GRRL.
Canter is a Peace Corps veteran and has held volunteer, communication, and marketing management positions with the Girl Scouts and the Central MN Task Force on Battered Women. Prior to becoming a Regional Supervisor she was Branch Manager of the Royalton Public Library.
Canter supervises libraries in Annandale, Big Lake, Becker, Buffalo, Cokato, Cold Spring, Delano, Elk River, Howard Lake, Kimball, Monticello, Richmond, Rockford and St. Michael.