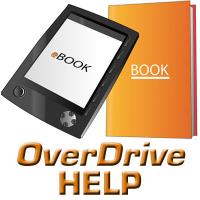 OverDrive, the vendor of digital library services to Great River Regional Library has improved OverDrive Help to make your digital library experience better. OverDrive Help includes newly-written help articles and tutorials covering everything you need to know to enjoy eBooks and eAudiobooks from our digital collection. Just click on "Digital Help" under "Getting Started" on the Digital Library page.
The new OverDrive Help articles contain screenshots, software download links and links to related articles. Each article can be printed, emailed or shared via Facebook, Twitter and other sites using the 'Share this page' button available at the top of most pages.
What's included in OverDrive Help
Each section of OverDrive Help is designed to help you find information in whichever method is preferred.
• Search - Type in a search term to find matching articles. OverDrive Help uses full text searching to provide an extensive list of search results
• Get Started With... - Articles to help you find everything you need to get started with your device (Android, BlackBerry, iPhone, iPad, Sony Reader, etc.)
• Most Popular Articles
• Recent Searches - This tag cloud shows what other users are searching for. Click one of the recent searches to show search results for that term
• Recently Added Articles - When new articles are added to OverDrive Help they'll show up here
An Expanding Knowledge Base
OverDrive is continuing to build the database of articles for OverDrive Help so be sure to check back for updates.