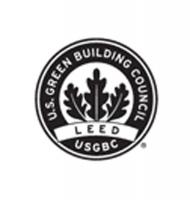 The Elk River Public Library made history Monday night when it received an award designating it as a LEED Gold Certified building – the first library in Minnesota to achieve LEED Gold certification. The library was presented a plaque during the August 3 Elk River City Council meeting by KKE Architects and the US Green Building Council.
The LEED® (Leadership in Energy and Environmental Design) Green Building Rating System is the nationally accepted benchmark for the design, construction, and operation of high performance green buildings. LEED is applicable to all types of buildings and focuses on five areas:
• sustainable site development
• water savings
• energy efficiency
• materials and resources selection
• indoor environmental quality
The key focal point that drove the entire design was the emphasis on daylighting, said Sheri Brezinka, Executive Director of the Mississippi Headwaters Chapter of USGBC in St. Paul. "Over 95% of the spaces have access to natural lighting and outdoor views, and this is a remarkable amount of space." Daylighting was incorporated into the form of the building, the butterfly roof, and the north-facing orientation.
KKE Architects, who designed the two-year-old library, submitted the application to the USGBC for certification. USGBC then evaluated the criteria and approved the certification. The award recognizes the leadership of the Elk River city council and project team, said KKE architect Jennifer Anderson-Tuttle, in ensuring the building would be "sustainable, fiscally responsible, beautiful and beneficial to the community."
The Elk River Public Library joins nearly 3,000 other LEED-certified building projects in Minnesota. By incorporating green building standards, Brezinka said, Elk River raised the bar for green building expectations and "realized important economic, environmental, community and productivity benefits for generations to come."
John Dietz, Elk River Library Board president who was a member of the city council during the project, said the project at times struggled to meet all the LEED criteria, but it was completed for approximately the same amount of money and "well worth it." He believes the new library offers something for everyone in Elk River and the city did the right thing by choosing to build green.