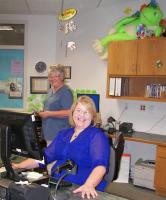 Cindy Bruggenthies became the new Branch Manager of the Albany Public Library in June.
She began working for Great River Regional Library 15 years ago when she was hired to manage the Grey Eagle branch. In between there was a period of subbing and working as the Swanville branch assistant.
The management hiatus was her choice. It gave Cindy the time she needed for home-schooling. Now she no longer needs to spend as much time at home, she is happy to be managing a library again.
"I didn't realize how much I missed being in charge," she said.
Library work scored high on Cindy's aptitude testing before she ever secured her position in Grey Eagle, and she loves it. "I can remember when I first started at Grey Eagle. I thought it was the perfect job," she said. Her first day at Albany was June 14, the first day of the Summer Library Program. "We had 94 kids signed up that day, plus a program, then the Zoomobile on Wednesday. It was hectic, but we've got good staff and good volunteers."
(Photo: Volunteer Kathy Tschakert standing, Branch Manager Cindy Bruggenthies at desk, Kermit reclining.)