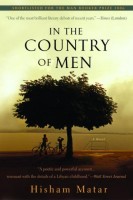 The prophet Muhammad lived 570 to 632. In his lifetime he brought Islam to the world through the scriptures of the Koran, inspiring a period of intellectual and cultural progress through North Africa and the Middle East that can be compared to the European Renaissance. While Europe stumbled blindly through the Dark Ages between the 7th and 12th Centuries, the Islamic world was founding universities, establishing trade routes, and building large, successful cities. United through faith, the Muslim world became the center of knowledge and progress.
For greater understanding and new perspectives about Muslim beliefs and culture, take part in "Bridging Cultures: Muslim Journeys, Points of View," a discussion series at the St. Cloud Public Library. The series begins Wednesday, April 30, 6:30 to 8:00 p.m., and will be based on the book "In The Country Of Men" by Hisham Matar. Check out the book from the library and join the discussion.
Other session dates are:
May 14 – Based on "Persepolis" by Marjane Satrapi
May 28 – Based on "House Of Stone" by Anthony Shadid
June 11 – Based on "Broken Verses" by Kamila Shamsie
June 25 – Based on "Dreams Of Trespass: Tales of a harem girlhood" by Fatima Mernissi
"Bridging Cultures: Muslim Journeys, Points of View" is funded through a National Endowment for the Humanities/American Library Association grant.