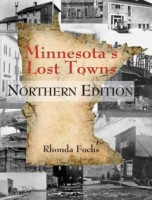 On Saturday, Feb. 27, at 10:30 a.m. join Minnesota author Rhonda Fochs with a journey to the past and hear the stories and the tales of the people and places of Minnesota''s lost towns.
Learn about area towns that once thrived, why they died, and what is located there today. View a comparative "then and now" photo presentation of some of the towns and learn how lost towns are classified according to their physical remnants. Fochs is the author of several books about Minnesota, including Minnesota's Lost Towns, Central, which covers the history of most of the Great River Regional Library area. Register online to reserve a seat.
Paynesville Public Library is located at 119 Washburne Ave., Paynesville.