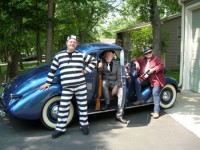 Minnesota Crime Wave: Meet authors Carl Brookins, Ellen Hart and William Kent Krueger on Saturday Feb 1, 11:00 a.m. to 12:00 noon at the Rockford Community Center. Free! Refreshments served.
There's almost no truth to the rumor that the members of the Minnesota Crime Wave met because they have the same parole officer. Established in the fall of 2000, the Crime Wave consists of mystery writers Carl Brookins, Ellen Hart and William Kent Krueger. Between them they have published more than thirty novels and have received nearly two dozen local, regional, and national awards for their writing.
Carl Brookins, a former academic and an avid sailor, is the author of three mystery series. The Tanner-Whitney series features a married pair of sailing sleuths. The Sean Sean series features a very short, very funny, and sometimes very dark private detective with an identical first and last name. His most recent offering introduces a series with an academic setting.
Ellen Hart, a trained chef, is author of the Jane Lawless mystery series, which features a culinary detective. Hart has also written novels featuring food critic Sophie Greenway. Both series are set in the Twin Cities.
William Kent Krueger writes the Cork O'Connor mystery series set in the great northwoods of Minnesota. It features a protagonist who is part Irish and part Ojibwe. Krueger's stories often deal with the clash of cultures.
The Rockford Community Center is at 7600 County Road 50. Call the library to register for this free community program: 763-477-4216. Sponsored by Rockford Friends of the Library.