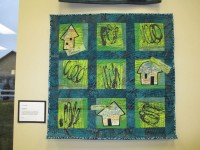 Twenty-eight fiber artists are exhibiting quilts interpreting cycles at the Waite Park Public Library during November. The quilts are part of the Minnesota Contemporary Quilters Challenge: Cycles. The quilts portray cycles in colorful and intriguing ways through images of bicycles, washing machines, nature, weather, recycling, the moon, and more.
The Minnesota Contemporary Quilters is a growing group of more than 100 forward-thinking fiber artists. They meet raucously the fourth Monday of every month except December at the Textile Center in Minneapolis. New members are welcome. For more information, visit their website at www.peglasota.com.
The challenge quilts will be on display at the Waite Park branch through Nov. 29.