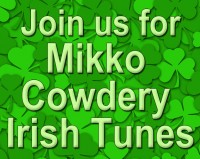 Join us Wednesday evening March 12 at 6:30 p.m. for a concert of Irish tunes featuring musician Mikko Cowdery!
Cowdery, from Osakis MN, has performed music for more than 50 years. Along with his lifelong love of Irish music, his music ranges from folk, pop and country to rockabilly, Broadway and Bluegrass. At age 11 he made his first public appearance and has been performing ever since.
All ages are welcome. Coffee and conversation will follow the concert. For more information you may call the Belgrade Public Library at 320-254-8842.
This project is funded in part through Minnesota's Arts and Cultural Heritage Fund.