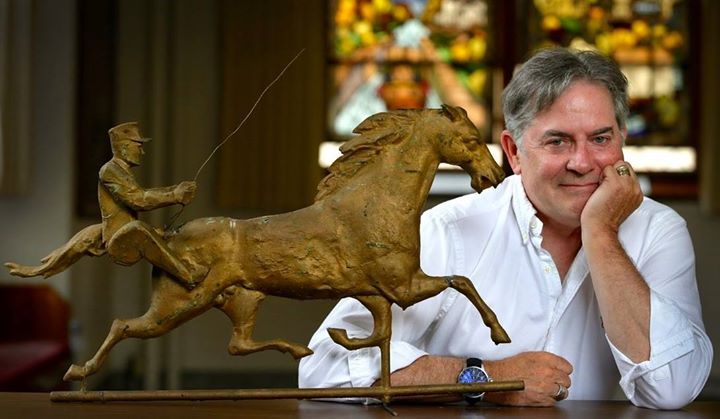 If you've ever been curious if there's a tale or two behind an antique treasure you own, you're in for a treat.
This month, Great River Regional Library is making it possible for you to learn a little more about your items, thanks to the expertise of professional appraiser and speaker Mark Moran.
Great River Regional Library is pleased to provide 9 opportunities around the region for you to meet Mark and find out if an antiquated possession has an unusual history, significance – and value – during this special antique appraisal program.
Moran describes his program as "appraisal as theatre." He begins by asking how the owner came to acquire the item, what they know about it, (if anything) and he digs into the details of the item's history, quality and value.
And, even if you don't have something you think warrants a review, Mark encourages you to attend and experience the event.
"Expect humor, anecdotes, tales from the road and just a lot of fun," he says.
Moran is the author or co-author of more than 25 books, including three editions of annual release Warman's Antiques & Collectibles, and has served as editor of numerous trade publications. He's been featured as a guest expert on a popular antique appraisal television program as well.
Mark will examine and appraise things such as:
Fine art, including paintings, drawings, prints and statuary.
Furniture (usually smaller pieces are best).
Ceramics, including figural pottery, vases, dishes, kitchenware and stoneware.
Glassware, including lighting, marbles and souvenir items.
Vintage photographs, including snapshots, tintypes, ambrotypes and daguerreotypes.
Advertising, including posters, lithographed tin, paper and figural objects.
Folk art, including carvings, quilts, weathervanes, windmill weights and "outsider" art.
Assorted toys, including dolls (bisque, composition, and plastic), windups and mechanical banks.
Metalware, including iron, bronze, brass, pot metal, silver, silver plate.
Clocks, including mantel, hanging and figural.
Costume jewelry, including brooches, bracelets and earrings.
Musical Instruments, including string, wind and reed instruments.
Books.
Sports memorabilia.
Excluded items include all weapons, including swords and knives (though folding knives with advertising are accepted); traps (like leg-hold); coins and paper money; Nazi memorabilia; fine jewelry, including precious gems; Beanie Babies. 
This is a popular program; people are asked to register well in advance to ensure they receive a time slot. Each event is limited to 40 participants.
To learn more and sign up for a time slot, call the library of your choice, listed below.
You can learn more about Mark's work, private appraisal appointment opportunities and get in touch with him via email, by visiting his website.
"Mark Moran and the history of your objects" program dates and locations:
| | | |
| --- | --- | --- |
| Cold Spring | 320-685-8281 | Monday, April 16, noon-3 p.m. |
| Clearwater | 320-558-6001 | Monday, April 16, 5-8 p.m. |
| St. Michael | 763-497-1998 | Tuesday, April 17, noon- 3 p.m. |
| Elk River | 763-441-1641 | Tuesday, April 17, 5-8 p.m. |
| Delano | 763-972-3467 | Wednesday, April 18, 9 a.m.-noon at Delano Senior Center |
| Grey Eagle | 320-285-2505 | Wednesday, April 18, 5-8 p.m. |
| Staples | 218-894-1401 | Thursday, April 19, 5-8 p.m. |
| Big Lake | 763-263-6445 | Friday, April 20, 10 a.m.-1 p.m. |
| Belgrade | 320-254-8842 | Friday, April 20, 6-9 p.m. |