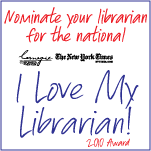 Do you love your librarian?
Do you think he or she makes the library a place people want to be, a place it's good to be at?
The Carnegie Corporation of New York/New York Times is seeking nominations for its "I Love My Librarian Award" which encourages library users to recognize the accomplishments of exceptional public, school and university librarians. Nominations will be accepted through Sept. 20 using the nomination forms on www.ilovelibraries.org.
Up to 10 winners will be selected, and each will receive a $5,000 cash award, a plaque and $500 travel stipend to attend an awards reception in New York.
The librarian may work in a school library, public library or academic library. Each nominee must be a librarian with a master's degree from a program accredited by the ALA in library and information studies or have a master's degree with a specialty in school library media.
The judging criteria are:
- The extent to which the nominee has helped make the experience of a library a positive one for the nominator
- How the nominee makes the library or community a better place
- How the nominee has improved the lives of his/her users (public librarians) or had an impact on the learning process (school and university librarians)
- How the nominee makes the library a better place (public librarians) or demonstrates leadership in the school or campus community (school and college)
For more information and to nominate a librarian, visit http://www.ilovelibraries.org.