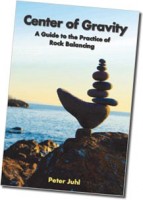 Would you love to use the rocks in your yard to create beautiful art? Peter Juhl, author and balanced stone artist, will demonstrate how to use everyday rocks and stones to make beautiful art in a program at Long Prairie Public Library. Peter says, "A good magic trick presents what we know to be a deception and makes us want to believe it's real. A balanced stone sculpture does the opposite: We know it's real, but want to believe it's a trick."
Uniting elements of performance art, sculpture, and meditation, Peter arranges natural stones found on location, using only shape, weight, and friction to create ephemeral works of art. No glue, magnets, or other artificial supports are used. Peter's book, "Center of Gravity: A guide to the practice of rock balancing," can be requested from the GRRL catalog. His book will be for sale at the event.
Peter will be showing examples of his creations and there will be hands-on practice for the audience. Come learn how to balance rocks!
This event will be held at the Long Prairie Public Library on Saturday, March 7, 10:00 to 11:30 a.m. Peter will also present the program later in the day at the Carnegie Library in Little Falls, 1:00 to 2:30 p.m. Both events are free and open to the public. To register, please go to griver.org