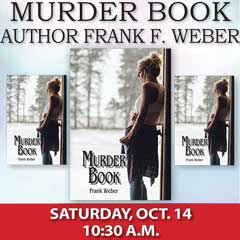 Mark your calendar; a notable local author will be making a visit to the Grey Eagle Library.
Frank F. Weber, author of Murder Book, will be here Saturday, Oct.14th at 10:30 am. Frank is a Pierz native and will discuss his first published book of fiction. The book, a novel geared toward adults, captures much of his real-life professional experiences in forensics interwoven with personal details of his childhood. Frank is a psychology and sociology instructor at Central Lakes College in Brainerd. He also operates his own business, CORE Professional Services, which specializes in forensic work.
Stop by the Grey Eagle Public Library or call 320-285-2505 to learn more.