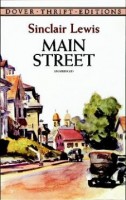 On July 16, 2013 I had the honor of attending a special Literary Landmark dedication ceremony at the boyhood home of author Sinclair Lewis in Sauk Centre. The Literary Landmark is a project of United for Libraries: The Association of Library Trustees, Advocates Friends and Foundations, a division of the American Library Association established to recognize and dedicate historic literary sites.
There are only three other Literary Landmarks in Minnesota. One is at 481 Laurel Ave. in St. Paul. This is the birth place of F. Scott Fitzgerald who is known for such works as The Great Gatsby and Tender Is The Night. The second and third ones are Betsy's House and Tacy's House, both in Mankato. Betsy's house is the childhood home of Maud Hart Lovelace. Tacy's house is the childhood home of Frances "Bick" Kenney, the childhood friend of Lovelace. Lovelace's series of Betsy-Tacy books is based on the adventures she and Bick had growing up in Mankato.
For more information about Sinclair Lewis and the plaque dedication, visit the Minnesota Association of Library Friends website.