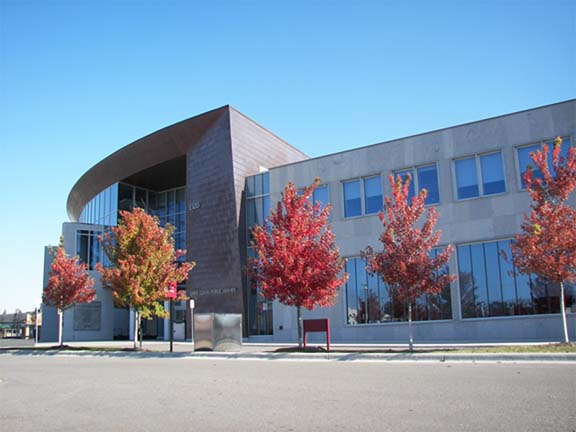 The St. Cloud Public Library is offering limited services beginning Monday, Oct. 24 as cleaning and restoration work in the St. Cloud Public Library continues. The closing and cleanup work was a result of an arson incident which took place on Aug. 17. The fire caused structural damage and spread smoke and soot particles throughout the building.
Services available beginning today will be holds pick-up, fine payment and pick up of Summer Reading Program prizes during regular hours: 10:00 a.m. to 9:00 p.m. Monday-Thursday, 10:00 a.m. to 6:00 p.m. Friday, and 10:00 a.m. to 5:00 p.m. Saturday. Existing meeting room reservations will be honored. However, no new reservations will be taken at this time. Access to the collection and computers will be available at a later date.
Patrons may begin requesting items to be picked up at the St. Cloud Library immediately. To change your item pick up location please contact library staff via phone. You may call any GRRL location. Contact information can be found at: www.griver.org/locations.
Library staff, city officials and seven different cleaning and restoration contractors have worked diligently to make sure the St. Cloud Public Library is back to pre-fire condition and a safe environment for patrons and staff. The damages totaled nearly $1 million. Most of the cleaning has been completed. Final structural repairs will begin this week on a window, window frame, and granite cladding on a structural pillar.
"It has been a huge undertaking! The library building is 115,000 square feet with more than 250,000 items. We know it's taking a long time but we want to make certain we are being thorough and complete to ensure the building is safe for our entire community," said Karen Pundsack, GRRL Executive Director.
After the library opens with full services, there will be a celebration to welcome people back to the library. "We'll do something to welcome people back. They've been patient and concerned. But I do know they're anxious. They're missing their library," said Julie Henne, Associate Director for Public Relations.
Extended Waite Park Public Library hours will continue (10:00 a.m. to 8:00 p.m. Monday-Thursday, 10:00 a.m. to 6:00 p.m. Friday, and 10:00 a.m. to 5:00 p.m. Saturday). Clearwater and Albany have returned to normal schedules.
For more information about library programs, contact the St. Cloud Public Library at 320-650-2500.
Great River Regional Library (GRRL) provides library services at 32 public libraries in Benton, Morrison, Sherburne, Stearns, Todd and Wright Counties. It provides Central Minnesota residents with nearly 1 million books, CDs and DVDs, 250 public computers, programming and information services.