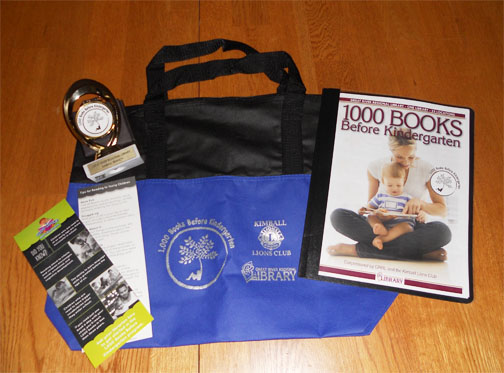 1000 Books Before Kindergarten is a reading program designed to increase the awareness of early literacy and to encourage parents to embrace their role as their child's first teacher. Plus there are prizes!  The goal of the program is to have parents and caregivers read to their children from the time they are born until they begin school and beyond. This will help their child develop a love for reading and help their child enter school ready to learn.
Brothers, sisters, uncles, aunts, grandparents and babysitters can all help and ALL books read to their child count! Books can be read at the library, school, daycare, anywhere! A book can be read as many times as your child likes.
The Kimball Lions Club understands the benefits of early literacy and has generously provided funding to jump start 1000 Books at Great River Regional Library's Kimball branch. At registration each child will receive a book bag and reading record to track their progress. For every 100 books read, children will visit the library to receive a sticker. At 500 they are able to choose a free book to take home. At 1000, each child will receive a certificate of accomplishment, a trophy and stuffed literary character! This program is ongoing, so parents/caregivers can visit the library to sign up their child at any time. The program only ends when the child reaches 1000 books or enters Kindergarten.
Did You Know?
"Early Literacy is not teaching your child to read and write; it is what your child knows about reading and writing BEFORE they can actually read or write."
"If children develop pre-reading skills (such as rhyming, telling stories and recognizing letters) before they start kindergarten, they can focus on learning to read once they do start school."
"Young kids build more language when we use 'play talk', like pretending, or telling a story, or just goofing around, as compared to 'business talk', like 'It's time to go to bed.' "
"One of the reasons reading books to kids helps build their vocabularies is that books have words we may not normally use in conversation."
**Fast Facts culled from the work of Saroj Ghoting, nationally recognized Early Literacy consultant, including her website www.earlylit.net and information presented at her Every Child Ready to Read workshop, September, 2014.