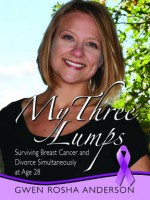 Author and 1998 Kimball High School graduate Gwen Anderson will visit the Kimball Library on Saturday, Nov. 9, at 10:00 a.m.
Gwen was a normal teacher, married for just over two years, when her personal storm broke. Gwen was diagnosed with breast cancer and faced an unexpected divorce. She found herself dealing with cancer treatments and divorce while struggling to keep her home, job, and sanity.
A longtime keeper of journals, she shares her quiet inner struggles in her book titled, My Three Lumps: Surviving Breast Cancer and Divorce Simultaneously at Age 28 hoping to inspire others in similar situations.
Gwen is happily remarried and lives in Central Minnesota with her husband and their daughter.
This event is funded in part with money from Minnesota's Arts and Cultural Heritage Fund.