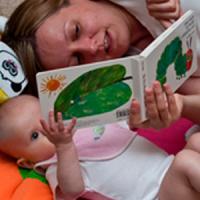 What fun children's picture books are. The artwork is often exquisite, the values are timeless, and the stories are wonderful. Through picture books, children grow to understand that letters create words and words have meaning. Reading with a child is one of the great pleasures of life, creating a unique connection between child and adult imagination.
The library has a Kids' Picture Books list on the New, Best & Fun page tabbed on our catalog. It includes a selection of the newest titles in the collection. There's a new Loren Long book about Otis the tractor titled "Otis And The Scarecrow," featuring beautiful artwork and a sensitive story about outsiders. Ernest Hemingway's grandson, Edward Hemingway, has written and illustrated "Bad Apple's Perfect Day," his second Bad Apple story about an apple named Mac and his best friend Will, a worm who lives in Mac's head! Two other friends, a sock monkey and a toy dog, get into an argument in "You Are Not My Friend, But I Miss You" by Daniel Kirk.
The list is long. Take a look, place holds on the titles that interest you, and visit the library to see what delightful children's picture books are on the shelves today.