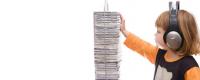 Don't forget to explore the list of Kid's Music, Movies and Audiobooks on the New, Best and Fun page. You'll find selections for children of all ages, including music and popular DVDs and audiobooks.
To keep young children entertained on car trips or when they are under the weather we have new DVDs from the "Chugginton" series, and "Daniel Tiger's Neighborhood." We have a new space fantasy audiobook just for kids titled "Infinity Riders." There's music, and kits. We are always changing the list, adding new items as they come through the library doors.
Stop by frequently and place your holds. Get your children into the library habit!