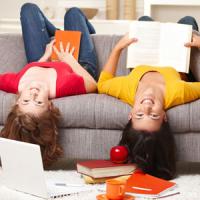 There's a New, Best & Fun page tabbed on the catalog, and on that page you can find a list of great new children's fiction. The Kids' Fiction list is full of fun, with adventures, mysteries and funny books for the young reader.
Some books, such as Timo's Garden by Victoria Allenby, are fun for young children, while others, such as Valkyrie by Kate O'Hearn, are for preteens. You'll find familiar series, like a Geronimo Stilton Spacemice book titled The Underwater Planet, and you'll find books that stand alone, such as The Only Girl In School by Natalie Standiford.
You'll find plenty of titles on the list for various reading levels and interests. So take a look. Place your holds. Check it out!