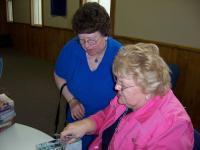 Million selling author, Lauraine Snelling, recently visited Upsala to speak with fans and talk about the craft of writing. Over 115 people heard Snelling speak at three different events.
"This was a unique opportunity for Central Minnesota residents. Authors of Lauraine's status don't often visit small rural communities, but she was willing when we asked her to come," commented Upsala Public Library Branch Manager Wanda Erickson. The visit was underwritten by the Upsala Lions and the Friends of the Upsala Public Library.
Minnesota Roots
At a noon luncheon, Snelling related incidents from her life growing up in Solway, Minnesota that formed the basis for her best selling Red River of the North series. "When you read about the Bjorklund family butchering hogs, you know the description is accurate because I have butchered hogs!" Snelling said. Her connection with the gathered group was immediate and led to a number of friendships that may have lasting impact. Thirteen fans attended a supper event designed to be a teaching time where aspiring writers could ask questions of a master. Writers of all ages and levels attended the supper, which proved to be a catalyst. All left with renewed vision for writing books, short stories and more.
"This was a great experience! I learned many things from Lauraine that I would not have thought about, like how to create a character," explained Audrey Schleper, 6th grade student.
The evening reception featured hors d'oeuvres catered by Jordie's in Bowlus, enjoyed by over 40 listeners. Snelling spoke with many who attended and then related the stories behind her books. Photographed: Clara Johnson (left) traveled from Crosby to meet Lauraine Snelling.