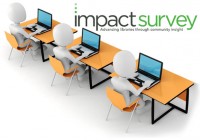 In April we asked you to complete a survey on how library technology affects your life. The Impact Survey results are now in and available to you.
Among the findings:
23% of library technology users are low income
28% reported doing educational activities
27% got information on health and wellness topics
31% used the technology for employment needs
Many users have alternate access to computers at home or at work, but still choose to use library computers, for a variety of reasons.
48% of all respondents (and 60% of public technology users) reported that public computing resources are important or very important to themselves, personally
86% felt that these resources are important or very important to have available for others in the community
The impact survey is the result of a research initiative from the University of Washington with support from the Bill & Melinda Gates Foundation.