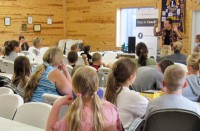 Ice Cream, a magician, face painting and books!
What a great way to kick off the Summer Reading Program at the Kimball Library! On June 3 the Willow Creek Park Shelter in Kimball was bustling with activity as the Summer Reading Program was set to get underway. To kick off the event, attendees were offered ice cream cups donated by Kemps Dairy and handed out by the Stearns County Dairy Princess. Volunteers were also on hand to paint children's faces and hands. In addition, the Kimball Cruisers 4-H club held a book sale in the building which generated much excitement.
At three o'clock, it was time for the main event: magician Jared Sherlock! The 100 plus children and teens who had signed up for the reading program, as well as many of their parents, enjoyed a fast-paced, enthusiastic performance by Jared that had several of the audience members participating. What a great way for young GRRL patrons to start off their summer reading!