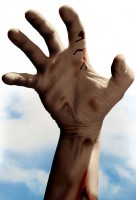 Zombie Apocalypse? Hunger Games? Car died in the middle of the Canadian wilderness? No problem!
Join Devin Cesnik, a former Air Force SERE (survival, evasion, resistance, escape) instructor as he teaches the basics of survival. With what you learn in this four-week series, you will be better prepared to face what life throws at you!
For ages 8 and older. Anyone under the age of 13 must be accompanied by an adult. Tuesdays in April, 6:30 to 8:00 p.m. in the Bremer Community Room at St. Cloud Public Library.