Posted September 11, 2012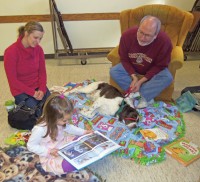 The popular R.E.A.D. (Reading Education Assistance Dog) program has been scheduled at the Howard Lake Public Library for a series of Fall, 2012 dates:
Saturday, Sept. 15; Saturday, Oct. 6; Saturday, Nov. 10; and Saturday, Dec. 1.
All sessions will run from 11:00 a.m. to 12:30 p.m. and generally include at least two dogs and their handlers. Kids have a choice of selecting their own books to read or being read to by a trained R.E.A.D. specialist.
Howard Lake Library has been fortunate to have a very active R.E.A.D. program for several years, and staff love to see the kids being totally absorbed in the pleasure of reading with a canine companion. R.E.A.D. is the most active national network of trained and bonded reading therapy dogs.
The R.E.A.D. program gives young readers have an opportunity to increase literacy skills in a fun and relaxing environment, and to further connect to reading as a pleasurable, enjoyable activity.
Pre-registration is not required. Open to all young readers and their families.
Questions? Call the Howard Lake Public Library at 320.543.2020!