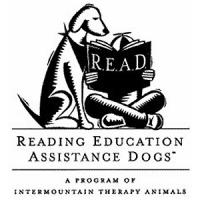 On Saturday, Feb. 18, the Howard Lake Public Library is hosting a special Martha Speaks event for young readers ages 4-10 and their families. The event will take place from 10:30 a.m. to 12:30 p.m. in the Howard Lake Community Room above the library. Special activities include stories and storytime, three fabulous R.E.A.D. certified dogs for kids to read to, craft activities, Martha Speaks movies, and games on the Martha Speaks website. Free Martha Speaks books and videos will be given away as door prizes!
The event is cosponsored by the local R.E.A.D. (Reading Education and Assistance Dogs) chapter and the Howard Lake Friends of the Library.
Neil and Carol Sideen of R.E.A.D. are the handlers and human companions of Penny, a border collie who spends many hours and days visiting the schools, residential facilities and nursing homes in and around Howard Lake. Penny also visits the Howard Lake Library one Saturday a month so she can enjoy her many school age friends reading aloud to her. Neil and Carol tirelessly volunteer their time to expand the reach of the R.E.A.D. program by training prospective handlers and working to connect existing handler/dog pairs to libraries, schools and other groups that want to host Read To A Dog events. Programming and events for the Martha Speaks event were designed by Carol, and combine her love for R.E.A.D. with the knowledge gained from teaching in elementary schools for 30 years.
The Howard Lake Friends of the Library is a group that has existed in different forms since the library's inception in 1905. The Howard Lake Friends support the library by hosting different events, purchasing items needed that are not provided by either the City of Howard Lake or Great River Regional Library, and working to expand public awareness of and pride in our library.
For more information on R.E.A.D. and the important role of dogs in helping to build reading skills, visit the R.E.A.D. website at:
http://www.therapyanimals.org/R.E.A.D.html
For more information on the Howard Lake Friends of the Library, visit their website at:
http://hjorgs.com/blog/friends-of-the-howard-lake-library/#more-16
To view the Martha Speaks website, go to:
http://pbskids.org/martha/
We will be having lots of fun on Saturday, Feb. 18. The event is free to the public, with no pre-registration required. For more information, call the library at 320-543-2020. Hope to see you there!